Ace Fishing: Wild Catch
3.0.6
Catch Rare and Exotic Fish
If fishing is a favorite hobby of yours then you are going to instantly fall in love with this fishing game. Ace Fishing: Wild Catch is a fun game in which you get to become an expert fisherman and catch various species of fish using some advanced fishing equipment. It offers you the chance to catch exotic and rare fishes from various parts of the globe and display them to the world in beautiful fish tanks. You will find the most modern fishing gear available to you which can help you reel in large fish with consummate ease. While it provides a lot of fun and excitement, this game is a bit intrusive and might prove to be a threat to your privacy.
Ace Fishing: Wild Catch has a slick gameplay and easy-to-understand controls which make playing it an easier proposition for everyone. However, the feature that makes this fishing game special is its realistic graphics. The fishing experience you get to enjoy is very close to reality. You will feel the same thrill and excitement when trying to catch a fish in this game as you would if you were actually fishing. The controls of this game are pretty straight-forward. You have to tap on the reel to cast the line and then try to reel in the fish when it strikes. There is a reel button located on the bottom half of the screen. You need to tap and hold it until the fish tires out after which you can catch it easily.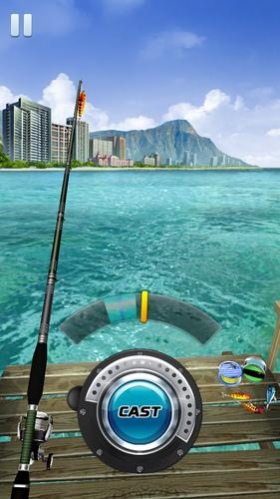 When catching a fish in this fishing game, you need to keep in mind that if you hold the reel button too long then the line will break. Conversely, if you let the reel button go for too long then the fish will swim away. So, you have to continuously hold and release the reel button, making sure that neither the line breaks nor the fish escapes. You can improve your chances of catching the fish by learning some fishing skills like power fishing and yanking. These skills will ensure that you are able to catch the fish no matter how large it is. Moreover, you have to continuously upgrade and evolve your gear in order to ensure that the fish that strike don't get away from you.
In Ace Fishing: Wild Catch, you will have to complete a lot of quests that are going to help you become a better fisherman. These quests will ask you to perform a number of different tasks including catching rare fish, improving your fishing gear and buying better lures. Completing these quests will earn you money, experience and rare items as rewards. These items can be used for evolving your fishing gear. You have the option of adding the fish you catch in beautiful fish tanks too. The fish you keep in them will grow over time and can then be sold for a better value. Aside from the quests, you can participate in live events in this fishing game too and also challenge other online players for a match in PvP mode.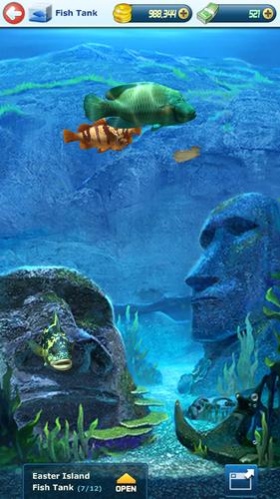 Features:
Lots of species of fish to catch
Fish in various locations all over the world
Various quests to complete
High-tech fishing gear available
Option to upgrade and evolve your fishing gear
Different types of lures to use for catching fish
Display the fish you catch in beautiful fish tanks
Participate in live events to earn great rewards
Practice different fishing techniques
PvP mode for challenging other online players
Connect with Facebook to play with friends
Conclusion:
Ace Fishing: Wild Catch is a gaming app which is designed for people who have an interest in catching fishes of different species. It lets them practice their fishing skills and allows them to catch fish in various locations all over the world. It is a nice fishing game and is a must-have for fishing enthusiasts.
---
Add a review
Tell us your experience with
Ace Fishing: Wild Catch
3.0.6
RELATED PROGRAMS
Our Recommendations
---
---
---
---